Knight of the Royal Order of Orange
-
Nassau

(RIDDER in de ORDE VAN ORANJE-NASSAU)
Nederland, Texas--May 27, 2003.
In a ceremony held at the Tex Ritter Park in Nederland, W. T. Block was appointed by her Majesty Beatrix, Queen of the Netherlands as Knight of the Royal Order of Orange-Nassau. The award was presented by the Consul General of the Kingdom of the Netherlands -- Mr. Ed J. Reitsma: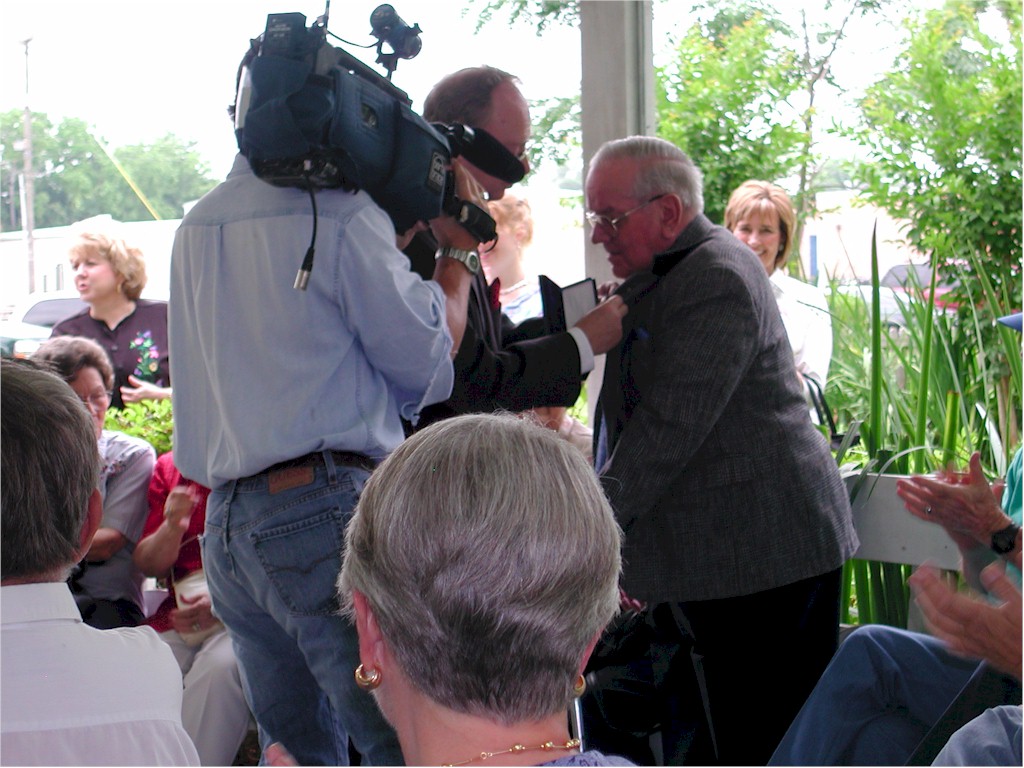 The award was given to W. T. for his work to preserve the history of the Dutch settlers in Nederland, Texas. Approximately 100 people attended the ceremony including city officials, residents of Nederland, and friends and relatives of W. T. Following the ceremony at Tex Ritter Park, the city invited everyone to the City Hall for refreshments.
Following the city's gathering for refreshments, family members attending from all parts of the country gathered at the home W.T.'s niece, Rhonda Posey, for what turned out to be an impromptu family reunion.
Broadcast Video
This is a video of the KBTV station in Beaumont, Texas about WT's knighting.
Home Video
This is a home video of my father, WT Block, being knighted in Nederland, Texas on May 27, 2003.
Letters Patent
William Theodore Block benoemd tot RIDDER in de ORDE VAN ORANJE-NASSAU:

To view the Letters Patent, click on one of the following image resolutions: 127k, 374k.
Some additional photographs
Introduction by Nederland's Mayor Homer Nagel:

Presentation by Mr. Ed J. Reitsma, Consul General of the Kingdom of the Netherlands:

A pose following the presentation: