John William Sweeney, Jr. and
Sarah Jane Hickok
By W. T. Block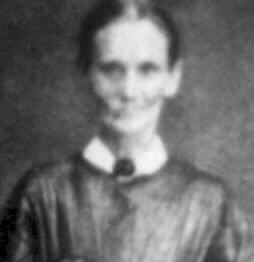 Sarah Jane Sweeney's paternal grandparents were John William Sweeney, Jr. (b. Pikesville, MD in 1807-d. Grand Chenier August 17, 1886) and Sarah Jane Hickok (b. Norfolk, VA May 17, 1817 (some records show 1814)-d. Grand Chenier, LA June 30, 1893).
Her paternal great grandparents were John W. Sweeney, Sr. (b. MD, Ca. 1775-m. January 1, 1801-d. MD, ca. 1810), and his wife Mary Owens (no dates, but said to be foreign-born).
There are so many stories to tell about the Sweeney ancestors that that subject could take up much space. The principal biographer of John W. Sweeney and Sarah Jane Hickok during the 1960's was their great grandson, Chalmer Sweeney of Chevy Chase, Maryland, son of Dr. Alvin Sweeney, and grandson of Dr. Carter Sweeney. It is known too that Sarah Jane Hickok was the daughter of John Hickok (ca. 1775-1830) and Hannah Murray (b. October 25, 1792) of Norfolk, VA, the latter having died young, about 1830. Sarah Jane Hickok married John W. Sweeney on June 14, 1832, at about age 15, in Norfolk, where they continued to live for a couple years, and their first child Mary Elizabeth (b. August 14, 1833-d. March 5, 1916) was born. From that date, after which she and John moved to Mississippi, Sarah Jane remained cut off from any of her Hickok siblings until her full brother, Hugh William Hickok (born Ohio ca. 1820) arrived in Grand Chenier about 1860. Hugh Hickok, later a Confederate soldier, was killed at the Battle of Fordoche Bayou in 1863, and Mama's brother, Hugh William "Bump" Sweeney was named after him.
John W. and Sarah Jane Hickok Sweeney had left Virginia by 1834, and settled first at/near Jackson, Hinds Co., Mississippi, where two more children were born, Henry Sidney (b. February 29, 1836-d. March 13, 1915) and Syrenah Jane, who died in infancy. The Sweeneys left Mississippi about 1839-1840 by boat, bound for Texas, when they took refuge from a storm in the Mermentau River. They thus became about the third white couple to settle in Grand Chenier, where Sarah traded a gold watch to the Apelusa Indians for the farmland on which they raised cotton. They had about 11 or 12 children altogether, the oldest daughter, Mary Elizabeth (Aunt Lizzie Bonsall, Vaughn), and oldest son, Henry Sweeney, having been born previous to their arrival. First, it is difficult to understand why they left Mississippi, because more than one million acres of former Choctaw lands had just been opened for settlement. Certainly Central and Eastern Louisiana were entirely settled by Acadian French people before 1830, and if a couple wished to move to Texas, a trip by boat was almost necessary. Friends of the Sweeneys named Dr. Milledge McCall had already moved from Mississippi and resettled at Grand Chenier ahead of them. I always have said that both the Sweeneys and Smiths had to "leap-frog over the French" in order to find a place to settle and raise cotton.
The other Sweeney children included Harriet Ann (McCall, Weatherill, born June 14, 1841-d. 1884); John W. Sweeney III (the first sheriff of Cameron Parish, b. March, 1846-d. Sugarland, TX, 1931); Sarah Ellen, who married Jules Bouquet and moved to Texas (b. 1844-d. 1889); James Hill Sweeney, my grandfather (b. September 25, 1849-d. October 7, 1891); Dr. George Carter Sweeney, (b. October 6, 1851-d. November 1922); Andrew T. Sweeney, (b. August 18, 1856-drowned October 1881); Rev. Frank Newton Sweeney, (b. May 5, 1859-d. December 19, 1936), also a Methodist minister; and Virginia (Aunt Jennie Logan of Port Arthur, b. February 25, 1854-d. March 8, 1936). There were probably two or three others, who perhaps died stillborn or infants and names that did not survive. Aunt Lizzie's oldest son, Dr. Isaac Bonsall, Jr. was also born about 1853, and for thirty years, he and Dr. Carter Sweeney were the only physicians at either Grand Chenier or Leesburg (now Cameron). Aunt Lizzie Bonsall and Aunt Harriet McCall were each widowed one-day apart. Harriet's husband, Confederate Lt. Wm. McCall, died of pneumonia at Mansfield, LA, on April 7, 1864 (another account said he was killed by Jayhawkers). The next day, Aunt Lizzie's husband, Confederate Pvt. Isaac Bonsall Sr., was killed at the Battle of Mansfield or Sabine Crossroads, LA, the greatest Confederate victory in the west, but it was a costly one for the Sweeneys.
One story often told about John W. Sweeney, Jr., concerned the amputation of his arm 'Grand Chenier-style,' which was mangled in a cotton gin and was cut off by Harriet's brother-in-law, who had been a surgeon's assistant at the Siege of Vicksburg. Sweeney was 'plastered,' soaked in whiskey in order to kill as much pain as possible, and then the 'surgeon' used a razor, hacksaw, a needle and thread to remove the mangled forearm. That was done about 1870, and Sweeney lived on 16 years until 1886.
Another tragedy of that period was the drowning of Andrew T. Sweeney in the Gulf of Mexico in the fall of 1881. Andrew Sweeney was engaged to be married to Margaret Doland when he loaded about 15 bales of his cotton aboard the schooner Two Sisters, bound for Galveston. There he had planned to buy his wedding suit, some pots and dishes, and his furniture before he returned to marry his fiancee. Somewhere near Galveston at night, it was discovered that the hold of the schooner was filling with water. Each of the five men aboard went into the water, hanging onto a cotton bale and hoping to drift ashore. One man reached shore alive; the bodies of two others washed up on the beach; but the body of Andrew Sweeney was never found.