Rev. John August Tubbe
An Immigrant Farmer, Sawmiller, and Preacher
By W. T. Block
In 1845 the gates opened widely for a flood of German immigration to Texas. Thousands of them arrived on the raw, Indian-infested frontier, and hundreds of them died en route—aboard ships at sea, or during the cholera and yellow fever scourges ashore as they sought land and the promise of a better life in the Lone Star State. Actually the first newspapers and journalists in Texas, the first brewers, corn and wheat millers, brick and stone masons, blacksmiths and wagon makers, authors and poets, sculptors and artists, the first musicians and musical instruments, and dramatic and singing societies were brought to Texas by these immigrants. In other words, they brought the fine arts to Texas. The 1900 Texas census enumerated 157,000 immigrants, who had been born in Germany.
The subject of this treatise, John August Friedrich Tubbe, was born in Oderberg, province Brandenburg, Prussia (now Germany) on February 17, 1841, the son of linen weaver Karl L. Tubbe and his wife Justina. He was educated in the local schools, before his widowed mother Justina and two of her children sailed aboard the immigrant ship Tuisko, which left from Bremerhaven on Oct. 6, 1855 and arrived at New Orleans on Nov. 30, 1855. Circumstances may be lacking as to how or why they arrived in Nacogdoches in January, 1856, except that a middle son already lived in Nacogdoches, Texas. It seems certain that the mother wanted to get her children out of yellow fever-plagued New Orleans as quickly as possible, and the usual route to Nacogdoches was by steamer up Red River to Natchitoches, LA., and then overland by covered wagon to Nacogdoches. That was also the route for shipping Nacogdoches County cotton to New Orleans. August Tubbe's siblings were Ludwig, Wilhelm Tubbe and one sister Charlotte.1
On April 5, 1862, Tubbe joined Co. A, 18th Texas Volunteers of the Confederate Army, enrolled by Capt. George W. Knox of San Augustine County, and August Tubbe served until the end of the war. His brothers also served as Confederate soldiers.2
On Feb. 12, 1862, August Tubbe married a fellow German immigrant, Mary Gertrude Kolb of Dalhausen, Westfalia, Germany, at the home of her parents, John Ernst Kolb and Anna Reyder Kolb,3 and that marriage lasted for 56 years, until the death of Mr. Tubbe. The 1870 Nacogdoches County census listed the following 4 children: Lizzie, John, Louisa, William. The 1880 census listed 5 children, as follows: Elizabeth, John A., Louisa C., William P., and Martha T.4 The Tubbe family Bible reveals the following information: Lizzie, born Oct. 12, 1862, died Sept. 16, 1901; Martha, born Mar. 17, 1864, died Nov. 4, 1864; John August Jr., born Sept. 20, 1865, died Jan. 28, 1937; Louisa, born June 1, 1868, died Feb. 27, 1907; William Paul, born July 9, 1869, died March 4, 1952; Ida Frances, born July 1, 1873, died Nov. 1, 1876; Martha (2), born Jan. 20, 1876, died Apr. 21, 1958; and Lou Tubbe, b-d, Jan. 20, 21, 1878.5
August Tubbe and Wife Mary born Kolb
Very early in his adult life, August Tubbe felt a call to preach, and as a result, he founded and pastored several churches. The church near Dorr Creek, Saints Rest Baptist Church, is still active and standing beside the Saints Rest Cemetery. The Dorr Creek School which Tubbe founded was operational until 1933, when it was combined with another school. Although his own children were grown when he started that school, his grandchildren attended it. A church history, labeled "Texas Trails, 1880-1903, disclosed that Tubbe founded a "Baptist Church of Christ on Freeman Prairie" and was its circuit-riding pastor. Later it became the Providence Baptist Church, 4423 Ted Trout Road, in Lufkin.6 Undoubtedly August Tubbe grew up in the Evangelical Lutheran tradition, but as time advanced his dogma was flavored by his new Baptist beliefs. Tubbe's preaching career lasted for 52 years. His grandchildren passed on the memories of his two and three hour sermons.
August Tubbe first began farming and ranching on a 160-acre tract in Nacogdoches County, where he grew sugar cane, cotton and corn, as well as raising cattle, horses, and hogs. By 1890 he had acquired 1,940 acres, known as Tubbe Ranch, 3 miles from Lacyville, and about 9 miles southeast of Nacogdoches on Highway FM1275. A part of that property has belonged to M. E. Tubbe since 1953 and now belongs to his son John August Tubbe.7
Tubbe may have begun sawmilling, using an overshot tub water wheel, on Lanana Creek as early as 1870, according to one family member. However, the first proof of his sawmilling career appears on a Nacogdoches County deed, dated in 1873.8
By 1877, August Tubbe had moved his mill to Tubbe Station, 12 miles south of Nacogdoches, and after 1900, 4 miles south of Clevenger. He perfected a "level turbine" waterwheel, which produced 24 horsepower, and turned 150 revolutions a minutes. Proof of its perfection lay in the fact that the waterwheel remained in use for at least 24 years until 1901. During the decade of the 1870s, Tubbe cut lumber, ginned cotton, and ground corn and wheat for local consumption, but gradually he limited his mill until it cut only lumber.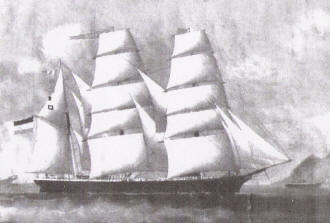 SS Tuisko
(original oil painting Fokke Museum, Bremen)
The 1880 Nacogdoches County Schedule 5, Industry, at Texas State Library (copy at Steen Library) gives a good description of the Tubbe Station water mill on Dorr Creek. Representing a $5,000 investment, Tubbe did all of his own logging at first. The mill was active for 10 months of 1879-1880, and it used 7 millhands, who were paid $1 to $2 daily and worked a 9 or 10 work day. The mill used a single-circular saw to cut about 10,000 feet daily, principally for local consumption. The Tubbe mill had a wooden tram road into the pineries over which wagons, fitted with tram wheels, were pulled by teams of 8 or 10 oxen.9
In 1895 Tubbe or Tubbe Station had 130 residents, but it had no post office. After 1900 the village received its mail from Clevenger, 4 miles to the north. After the Texas and New Orleans Railroad reached Tubbe on Jan. 18, 1900, August Tubbe decided to switch his mill to steam power in order to increase production, since he had a new avenue for shipping lumber to market. No information survives about his mill equipment of those dates, but the writer believes he bought a double-circular sawmill at a sheriff's auction, which also included a steam engine and boiler, in order to reach his 40,000 feet production of 1904, and 60,000 feet in 1906.10 He also believes that August Tubbe closed his mill about 1910, perhaps cut out of available saw logs, or perhaps he just wished to retire. For some of those later years, the Turner and Nabors log teams supplied logs to his mill under contract.
The following reports appeared in newspapers or journals of that period, as follows:11
"The next mill of consequence is that of A. Tubbe in Nacogdoches County, near the boundary (Angelina River) of Angelina and Nacogdoches counties. This mill has a capacity of 40,000 feet daily, and is doing a good business in addition to a good lumber shipping trade."
"Tubbe's mill is in Nacogdoches County, near the Texas and Louisiana crossing over the Angelina River. It has a capacity of 40,000 feet daily, employs thirty men, and has 500,000 feet stacked on the yard."
A Beaumont newspaper of 1905 compared the Tubbe watermill of 1901 to the M. C. Meigs mill in Sabine County. Each mill used a level turbine wheel, each developing 24 horsepower, and each mill in its heyday had sawed lumber, ginned cotton, and ground corn and wheat.12
Other than having to bury two daughters between 1901 and 1907, the Tubbe couple's latter years were probably happy, and still engaged in agricultural pursuits. However, all of that was to change abruptly when the United States declared war on Germany in April, 1917. Very quickly, almost unbelievable anti-German immigrant hysteria blanketed the nation, similar to the anti-Japanese-American hysteria of 1942, when 150,000 Japanese-American citizens were carted away for internment in camps. The writer knows that history quite well, having served in the 78th Infantry in Europe during World War II.
Despite 55 years of marriage in this country, a 52-year career as a preacher, and about 40 years as a sawmiller, John August Tubbe was treated abominably by his adopted country. He was arrested as an enemy alien, was jailed in Tyler for 41 days, and only a petition, signed by the leading citizens of Nacogdoches County, could effect his release.
On Nov. 12, 1917, August Tubbe wrote a deposition from the Smith County jail, and in it he explained that he had two older brothers in Nacogdoches, who were a naturalized citizens; also a mother, who was a citizen, and he believed that since he was only a 14-year-old minor when he arrived here, that he had been included in those naturalizations. Also when he was paroled from the Confederate Army, he had taken an oath of allegiance to the United States. He had paid poll and property taxes for 60 years, had also ran for two public offices, although defeated. Nevertheless, all of that came to naught when some one denounced him as an "enemy alien" and he was arrested.
Nevertheless, his confinement had already broken him in spirit, health, and will to live. Never recovering from the embarrassment, he died a year later on Nov. 18, 1918, and was buried in Saints Rest Cemetery. His widow, Mary Gertrude, died a year later, on Nov. 19, 1919, and was laid to rest beside her husband.13
So ended the life of a German-American patriot, who saw his life's contributions, as pastor and founder of many churches, as long time employer of 30 persons, count for naught in the face of the inexcusable war hysteria, which forced many Texas newspapers to stop publishing in German, even forced schools to quit teaching German. People like Tubbe were called "Huns." As a result, August Tubbe, who prided himself in his American citizenship, died heartsick and heart-broken, because of the shabby treatment accorded to him by his country in the 76th year of his life. However, it failed to dim Tubbe's light in the eyes of his neighbors, who knew that a kind, industrious, and generous man had lived a lifetime among his friends in Nacogdoches County.
Endnotes
1 Tubbe genealogy, as found in Gisela Laudi, "Justina Tubbe: Der Weite Weg von Oderbruch nach Texas" (Berlin: Westkreuz Verlag, 248 pages); also Tubbe family genealogy in Laura's Genealogy Page, on Texas Genweb of Hardin County, on the internet; also Index to Naturalization Records, Nacogdoches County District Court; also 1900 Nacog. County census, SD8, ED9, SH32.
2 Information furnished by Sarah (Mrs. John) Tubbe of Nacogdoches.
3 Vol. B, p. 353, Marriage Book, Nacogdoches County, Texas;
4 1870 Nacogdoches County census, p. 448; 1880 Nacogdoches County Census, pct. 1.
5 August Tubbe family Bible.
6 Information furnished by Mrs. John Tubbe.
7 From Laura's Genealogy Page, on GenWeb, Hardin County, Texas.
8 Information furnished by Mr. John Tubbe.
9 1880 Nacogdoches County census, Schedule 5, Industrial census, copy at East Texas Research Center, Steen Library; Nacogdoches News, 1877, edition no longer known.
10 Printout, Tubbe Saw and Grist Mill (NA-13), at Texas Forestry Museum, Lufkin; also W. T. Block, East Texas Mill Towns and Ghost Towns, Vol. 1 (Lufkin: Best of East Texas Publ., 1994), p. 156.
11 Ibid, Block, East Texas Mill Towns and Ghost Towns, Vol. 1, 156; also Beaumont TX. Journal, Nov. 13, 1904; Southern Lumber and Industrial Review (Jun, 1904), p. 24; also ibid, Southern Lumber and Industrial and Review (Sept, 1906), p. 28; also 1880 Nacogdoches County Industrial Census, Microfilm Reel No. 47, Texas State Library, Austin, copied by the writer in Austin in Jan., 1972.
12 Beaumont TX. Enterprise, Mar. 15, 1905.
13 Information furnished by Mrs. John Tubbe; also genealogical info from Gisela Laudi's book, "Justina Tubbe;" also from Laura's Genealogical Page.
The writer's father was born in Port Neches, TX in 1870; never saw or visited Germany in his lifetime and did not speak German. Because of his German descent, though, he was nevertheless accused of "Spying for the Fatherland" in 1917.