Samuel P. Henry
Father of Cameron Parish
By W. T. Block
It seems certain that Southwest Louisiana has provided the world with some unique personages, that rare breed who gives all of themselves to humanity, also their time, talents, and whatever else was needed to make the world a better place. Such a person was the Hon. Samuel P. Henry, who can easily be dubbed the "Father of Cameron Parish," as well as one of the most significant legislators ever to emerge from Southwest Louisiana.
Samuel P. Henry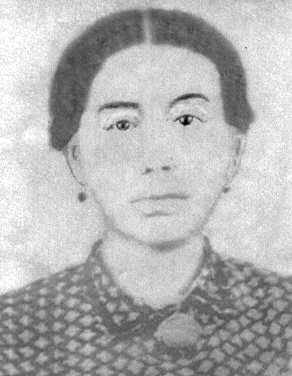 Harriet (Mrs. S. P.) Henry
Samuel P. Henry was born on Aug. 24, 1830 in Lancaster, PA., the son of Stewart Henry, born Sept., 1804 in Delaware; and Mary Ann Lynch, born Mar. 24, 1808 in Maryland. While growing up in a household of 7 children, it was noted that Henry had no middle name or initial, so he eventually picked the letter "P" in Southern Pacific. Descended of sturdy Scotch and Irish stock, Sam's parents later immigrated to Wheeling, West Virginia in 1832, and later to Cambridge, Guernsey County, Ohio in 1836, where young Henry grew to adulthood.
As a youth, S. P. Henry had a penchant for knowledge as is visible in his pursuit of education. He graduated with honors in the classic and liberal arts at Franklin College in Athens, Ohio in 1854. As a concession to his parents, Henry studied divinity at a Presbyterian seminary and was ordained to preach. He also graduated from Jefferson Medical College, although it seems doubtful that he ever pastored a church or practiced medicine. After completing his education, S. P. Henry became professor of mathematics and languages at New Iberia College of Ohio, serving 15 years in that capacity throughout the Civil War years.
Henry married Harriet I. McDonald, born Oct. 3, 1838 in New Concord, Ohio, the daughter of William (b. 1806 in Scotland) and Sara Leech (b. 1811 in PA.). The couple became the parents of 3 children, born in Ohio, and 3 more, born in Cameron, LA. After leaving his teaching position of 15 years, Henry was associated briefly with a Cincinnati newspaper, before the couple left for New Orleans in 1869, at which time Henry became a sales representative for the Wilson and Hinkle Publishing House in Cincinnati.
It was probably an easy decision for the couple to move to New Orleans - Henry's brother, Dr. Stewart L. Henry, had served as a Union Army assistant surgeon in New Orleans, and when the war ended, Dr. Stewart Henry chose to remain in New Orleans.
S. P. Henry apparently became dissatisfied with his new position in New Orleans, for a public eulogy delivered after his death credited my great grandfather, Duncan Smith of Leesburg, with soliciting S. P. Henry to resettle in Cameron Parish.
For his exploratory visit to Leesburg (now Cameron), in Cameron Parish in 1871, Henry apparently took the train to Morgan City, after which he left by stage coach for Abbeville. According to another source, Henry came into Cameron Parish via the back door. Henry walked from Big Pecan Island to the Pierre Valcour Miller home on the extreme east end of Grand Chenier. Later Miller loaned Henry a horse, upon which he continued his journey to Leesburg. Apparently Henry was so impressed with the prospects of Cameron Parish, that he returned to New Orleans at once in order to move his wife and children.
S. P. Henry soon bought the Jerry V. Smith saloon building and remodeled it into a large residence. He soon built the first steam cotton gin and gin house in Leesburg. According to Galveston Weekly News, Henry lost both his gin and gin house during the horrific hurricane of Aug. 22, 1879; he replaced his destroyed gin with a new one within a year. When John W. Sweeney, Jr. was elected the first sheriff of Cameron Parish, he sold his "Old Red Store" to John McCall, who in turn sold it to S. P. Henry. For many years it was the only store in Cameron, so Henry had to purchase all the cotton, deer hides, other peltries, produce and Satsuma oranges as he traded with the settlers of the parish.
Commensurate with Henry's excellent education and his affinity to accept civic responsibility, he was appointed postmaster at Leesburg on Jan. 11, 1873, an office he could easily perform in conjunction with his store until 1880, at which time his wife Harriet became postmaster. Mrs. Harriet Henry held that office until Aug. 1896, when she resigned.
In 1873 S. P. Henry ran for and was elected parish judge, winning over his worthy opponent, Judge Andrew J. Kearney, Leesburg's first lawyer, who was also highly respected. Thereafter Henry was addressed as "Judge Henry," even long after that office was abolished in 1878. He was also elected president of the Cameron Parish School Board, beginning about 1873.
Judge Henry ran for state representative in 1880 and was reelected every term thereafter until 1892. In 1892, he ran for state senator, was elected, and helped produce some significant legislation during his term in that office. After a 4-year respite, he ran again for representative, was elected in 1896, and he still occupied that office when he died in 1902, thus serving a total of 22 years in the state legislature. Two of his sons ran the "Old Red Store" while Henry was away in Baton Rouge.
Henry was twice elected speaker of the Louisiana House. His brother, Dr. Stewart Henry, was the state representative from New Orleans during the same period. Both brothers opposed vigorously and voted against the state lottery. Being entirely cognizant of the value of Leesburg's offshore waters, Judge Henry fought for and obtained the necessary legislation, which created the Gulf Biological Station, which operated until 1912. Henry donated ten acres of land for its building site, stipulating that at any time the land should no longer be needed, or the station closed, it would be returned to the Henry estate. Judge Henry also owned considerable real estate, also cattle, a farm and ranch lands; and during the same period he was elected to the board of the Calcasieu Marine National Bank in Lake Charles.
enry was always regarded by his Baton Rouge peers as a man of sterling and impeccable character. And whether a trapper, who was trading pelts; or a planter, ginning his cotton, S. P. Henry was likewise highly respected and regarded in the highest esteem by the poor and laboring classes of Cameron Parish. According to New York Sun of March 29, 1902, S. P. Henry played a role in the naming of the parish, favoring the name of his friend (as well as Duncan Smith's), the Honorable Simon Cameron of Pennsylvania.
Samuel P. and Harriet Henry were the parents of six children, the oldest three, Mary, Charles F., and LeeRoy, being born in Cincinnati, and the three youngest, Arthur, Elray, and Grace, being born in Leesburg. Four of the children and their spouses are buried beside the parents in Graceland-Orange Grove Cemetery in Lake Charles. Grace Lambert is buried in Texas, and LeeRoy Henry who died quite young of an accident, is buried in Ohio.
Early in 1901 Harriet Henry became seriously ill, and she caught the train to New Orleans to be under the care of her brother-in-law, Dr. Stewart Henry. She died in New Orleans on Feb. 25, 1901, and her remains were returned to Lake Charles for burial in Graceland-Orange Grove Cemetery.
Perhaps grieving still over the loss of his wife, S. P. Henry became ill with pneumonia about March 5, 1902, and his brother from New Orleans came to attend his illness. Twelve days later, S. P. Henry died at his home on March 17, 1902, and according to his long obituary in Lake Charles Weekly American of Mar. 22, 1902, C. F. Henry engaged the steamer Romeo to take his father's remains to a funeral home in Lake Charles. The Henry family members living in Leesburg accompanied the body to Lake Charles. The next day Henry was interred beside his wife. He was survived by 4 children, Grace, Charles, Arthur, and Elray Henry, and by three brothers, Doctors Stewart and Robert Henry and by Thomas Henry. Charles F. and Arthur Henry, assisted by a grandson, Pete Henry, continued to operate the "Old Red Store" until 1915. Judge Henry had also continued his duties as parish treasurer for the 15 years prior to his death.
Surely no other person is so eminently qualified to be called the "Father of Cameron Parish" than is Samuel P. Henry. He was educated quite beyond the norm for the day and age in which he lived. As state senator, representative, and speaker of the Louisiana House, he was the parish's advocate for better schools, roads, and mail service. For 22 years he was associated with Louisiana's most influential politicians in Baton Rouge. As judge, school board president, postmaster, treasurer, and merchant, he was a friend to and in daily contact with all the people of Leesburg, all of whom loved and respected Judge Henry as their friend and confidant. Hence, a suitable biography of Samuel P. Henry should be on file in every library and genealogical resource in Southwest Louisiana.